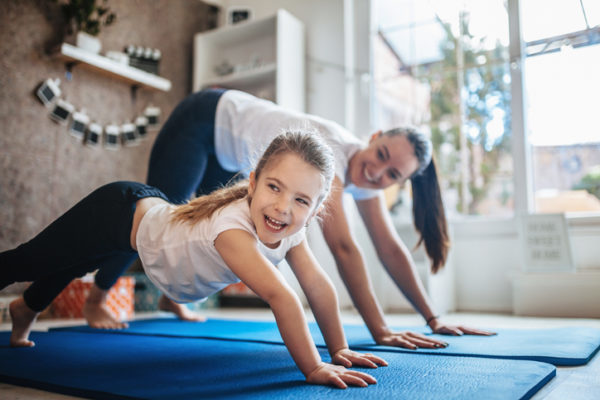 Your home may be where you relax and spend time with family, but it can also be where you break a sweat! Whether you like to start off your day with a refreshing workout or you prefer to unwind by exercising in the evening, you can easily set up a private gym in the comfort of your new Mason Flats home.
The best part? No gym membership fees, lines, and crowds. (Oh, and no one else's sweaty towels or loud music either.) Your home gym is all yours to enjoy whenever you want, so you can exercise the way you like to — on your own time. If you're thinking about turning a flexible space like the guest bedroom into a personalized gym, here are a few ways to pull it all together:
Find the Right Fitness Equipment
You know the feeling: you walk into a crowded gym and the equipment you want is already being used… or maybe they don't even have what you're looking for. Not the ideal way to start your workout. The fun part about creating your home gym is filling it with all of the equipment you love to use.
If you don't have a lot of experience with traditional gym equipment, not to worry. There are a few essential items — no matter your current level of fitness — that can help you get acclimated to working out and find out what you enjoy most. All of these items are easy to find in stores and online, and can fit seamlessly into any workout space.
Strength/Cardio
Dumbbells
Kettlebell
Pull-up bar
Workout bench
Resistance bands
Compact strider
Step machine
Exercise ball
Folding treadmill (much cheaper than the regular kind)!
Yoga
Mat
Block
Bolster
Yoga strap
Set the Scene
There are no rules when it comes to what your home gym looks like. If you like the setting of a particular gym you have visited before, try to replicate it. You can do this with the right amount and type of lighting, accessories for your walls, a mirror, certain music playlists, etc.
Don't like the traditional setup of gyms? Create your own. Turn your space into a retreat with calming houseplants, warm lighting, incense, and soft music. Or try a bold, vibrant space with bright walls, posters, and motivational signs. It's all up to you.
Add Easy Gym Storage
With a personalized home gym, you can keep your "workout life" separate from the rest of your home. Organize your workout clothes, shoes, and towels in bins, shelves, or on a stylish ladder shelf. You can even keep a laundry basket handy for sweaty clothes. If you like to keep your drinks cold, shop around for an affordable mini fridge for an added level of "gym luxury."
When it comes to your home gym, all you need to get started is an open room. Then you're free to design and decorate however you wish. Luckily, we've got new townhomes in East Atlanta Village ready for you to make your own!