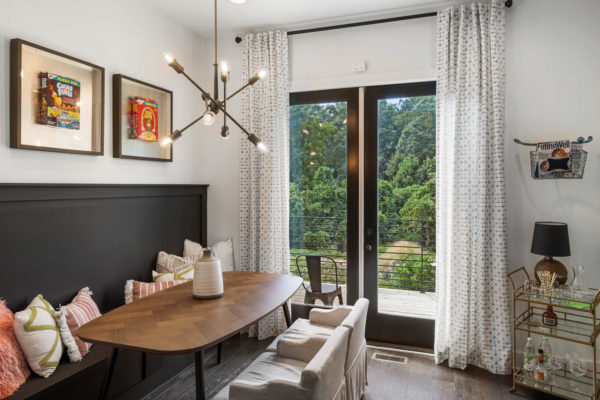 Every now and then, it's fun to visualize a new vibe for your home and mix things up a bit. From your furniture to your walls and every inch in between, the design options are endless in your spacious Mason Flats townhome. But before you open the paint can or hit "buy" on that patterned sofa, our knowledgeable and talented designer, Caprice Cannon, is here to give you some advice on design trends and mistakes to avoid.
In our previous previous article, Home Design Trends for 2021, we looked at a few fun ideas to try in your favorite spaces. Today, Caprice is letting you in on how not to design a room. (Yes, her advice is just as helpful as it sounds!) Take a look at a few design trends and mistakes to leave in the past, and get inspired by Caprice's fresh, modern taste for your new home in East Atlanta.
Home Design Trends to Avoid
1) Not Having a Budget
Every decorating project should start with a budget and a list of items to complete. This way, you won't spend too much in one area or end up with an incomplete or half-decorated room.
2) Mixing Too Many Patterns
This can create a terribly busy look (that may not be too appealing to the eye). It's best to stick to one or two patterns per room for a more elegant look.
3) Themed Rooms
A themed room is never a good idea for a home's main room. It works best as a hobby room or a sports-viewing room. Just make sure it still works well with the overall decor of your home!
4) Accent Walls
These are always tricky. Make sure the wall you choose is the focal point of the room, like the wall behind your bed, or the large wall in a living room behind the sofa or the fireplace. Also, remember to select a product or color that's appealing and not off-putting.
5) Over-Accessorizing
This is something I see a lot of people do. They get excited about displaying all of their favorite items at once, not realizing that this actually takes the eye away from their individual beauty. Consider putting only a few accessories in a room at one time.
6) Pushing Everything Against the Wall
This can make your room feel empty instead of inviting. For a cozier feel, try grouping furniture together in seating arrangements around a focal point (like the fireplace), and grounding it with a rug and coffee table.
7) Mismatched Furniture
This is a tricky decorating style to pull off, even for professional designers. Sometimes, it's best to select similarly designed furnishings and only use those. If you still need to fill empty space in a room, incorporate new pieces that work with that design style and get rid of the old and dated.
8) Dated TV and Electronics
New flat screen TVs are no longer expensive, no matter the budget. Take the time to update and professionally install your new flat screen TV over the mantle or place it on a new credenza… and join us in the 21st century! 🙂
Whichever plan you choose at Mason Flats, Caprice will work with you to ensure that your new townhome in East Atlanta is perfectly designed for you. Contact us at 770-714-5693 for more information, or schedule a personal tour today!